NOW AVAILABLE
MY NEW JOSPEL MANUAL...IN CD FORM!!!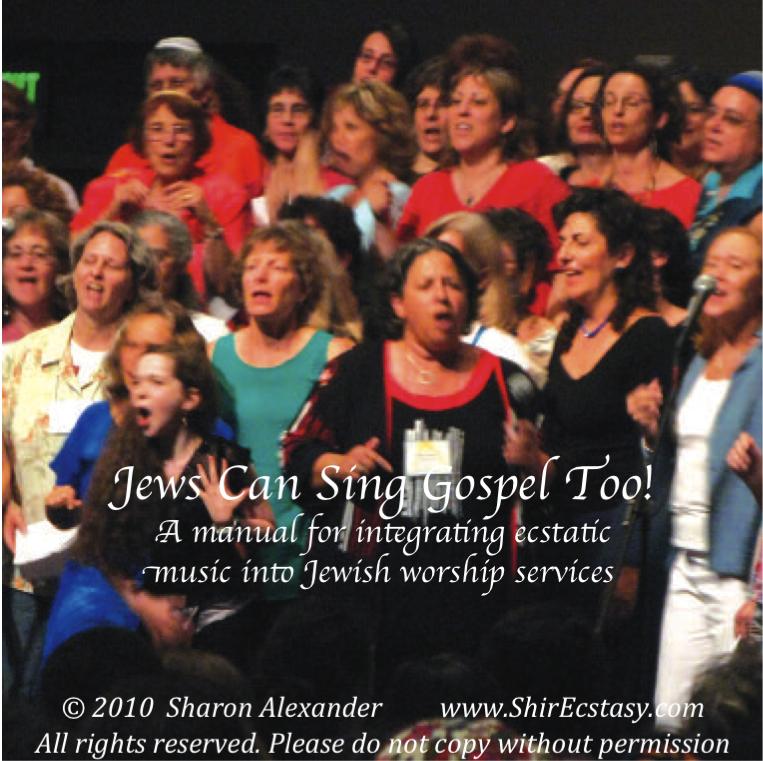 THIS NEW CD MANUAL INCLUDES:
-- Questions Jews have about singing jospel music & how does a "nice Jewish girl" come to teach this musical style?
--What is ecstasy anyway & should Jewish congregations try to achieve this state?
-- How does jospel compare to chassidic and other ecstatic musical paths?
-- Praise, Worship, & Glory in the Jewish Service
-- Why is praising God so important in our prayer services?
-- The powers of affirmation & intention, & the law of attraction
-- The physics of resonance, group synchronization, & collective consciousness
--Gospel techniques made simple
-- The role of music in the African-American community & the rules for joining in the choir
-- What does gospel music have to offer?
-- Advice for integrating jospel music into your service
-- Additional benefits of jospel choir: Jospel will reinvolve men & youth in the community
-- Warnings to leaders & participants about the misuse of rhythmic synchronization in manipulating consciousness
-- Recommended resources
-- Much, much more in appendices including sample choral sheet music and accompanying "mp3's/"m4a's for such favorite jospel songs as:
1.Now Let Us Sing -traditional, arr. Ysaye Barnwell
2.Ilu, Finu -Miriam Margles
3.Hallelu/This is the Day -Cantor Lisa Levine, arr. S. Alexander
...and many more.